RESTAURANT AT PIRITA MARINA
Restaurant at Pirita Marina | Between the river and the sea. Restaurant Sardiinid offers gourmet food on the Pirita riverside with a view of the sea in the background and to be a meeting place for the residents and visitors of Pirita. Sardiinid is a restaurant in Tallinn, located in Pirita; its spacious windows and beautiful surroundings with a view of the sea create an unforgettable and romantic atmosphere for any special occasion, appointment, or business meeting. Our "Morning sun" and "Sunset" terraces give you the opportunity to forget about everything but this moment while you discover the historical Pirita harbour and enjoy the flavours and aromas of the Sardiinid cuisine.
The Sardiinid restaurant is located at the Pirita harbour, on the left bank of the mouth of the river Pirita, in the building of the Yacht Club, which is a significant example of late modern architecture. The Yacht Club was built for the 1980 Olympic Sailing event as a part of the Olympic Yachting Centre, which has authentically survived until today, protected by the Estonian National Heritage Board. On both sides of the restaurant, there are terraces where you can enjoy a beautiful view of the sea, the harbour, and the ruins of the Bridgettine Convent church. The mouth of the Pirita river has famously been the landfall and harbour for many boats since ancient times.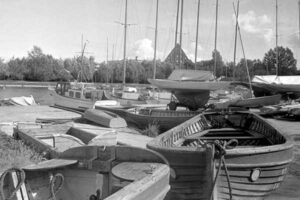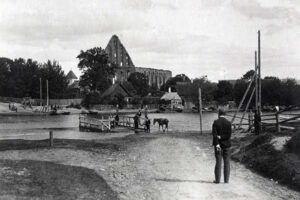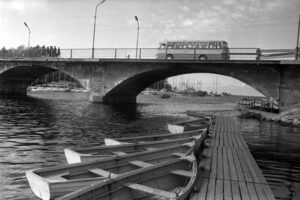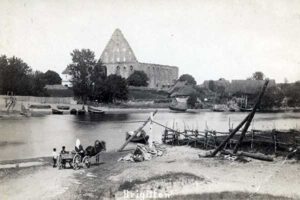 Mon: Closed
Tue-Sun: 12:00 – 22:00
Kitchen: 12:00 – 21:00
Fri-Sat: 12:00 – 23:00
Kitchen: 12:00 – 22:00
Sun: 12:00 – 22:00
Kitchen: 12:00 – 21:00
Restaurant Sardiinid is located at the Pirita harbour, at the mouth of the river Pirita, in the building of the Yacht Club (house no. 2). You can visit us on the left riverbank by first walking or driving along Purje Street until you reach the Pirita Marina Hotel & SPA where you can park. Then, walk past the building of the EEVL Valguse Tee Vabakoguduse Church (house no. 7). Or drive past the hotel and turn right, where you will find another parking lot. Or turn from Purje Street onto Masti Street (follow the ESS Kalev Yacht Club sign) and then turn left. Follow the building numbers and arrows. We are located a ten-minute drive away from the city centre. You can also reach us by public transport or by walking from Kadriorg for about a half an hour. Parking in the TOP territory of Pirita is free.
Reserve a table for lunch or dinner, for a romantic date or a business meeting, or to celebrate a memorable anniversary. You can do this via TableOnline.ee, by calling us at +372 660 6960, or by writing to restoran@sardiinid.ee. *We do not take bookings on the terrace.
Our restaurant is perfect for private events, as well as for commercial gatherings. The "Sardiinid" restaurant in Pirita takes group reservations and reservations for organised events. We recommend making an advance booking for groups of more than eight people to ensure the smooth organization of the restaurant.
OYSTERS 1 pcs | 4.50
Fresh oysters with Mediterranean vinaigrette sauce.
HUMMUS & OLIVES – V 7.95
Chickpea puree with olives, roasted onions, and pita bread.
BRUSCHETTA SELECTION 7.95
Bruschettas with goat cheese, cod liver, and vierge salsa.
V – with vierge salsa.
MATJES HERRING 8.95
Matjes herring with pickles, onions, cottage cheese, and almond potatoes.
GREEN MUSSELS 8.95
Baked green mussels with cheese, and garlic sauce.
HONEYDEW MELON & AVOCADO SALAD – V 8.95
Fresh salad with quinoa, various seeds, avocado, and honeydew melon.
MACKEREL CARPACCIO 9.95
Thin sliced mackerel with figs, pine nuts, and herb pesto.
GOAT CHEESE SALAD 10.95
Delicious goat cheese with ripe beetroot, and fresh salad.
CAVIAR DUO 10.95
Red trout and black capelin caviar on toast with sour cream, and finely chopped shallots.
CELESTIAL CHEESES 12.95
Selection of cheeses with cloudberry and fig jam.
TIGER PRAWNS 12.95
Tiger prawns with garlic and chilli.
TIGER PRAWNS & AVOCADO 13.95
Roasted tiger prawns with herb cream flavored avocado, and cherry tomatoes.
BLUE MUSSELS IN COCONUT SEA 18.95
Blue mussels steamed in white wine and coconut milk sauce.
SEAFOOD SELECTION 39.95
Gin marinated arctic char, tiger prawns, crayfish, squid tentacle, green mussels, marinated mackerel, and Matjes herring.
LENTIL PRAWN SOUP 9.95
Slightly spicy pureed lentil soup with tiger prawns.
V – with croutons and soy cubes.
BOUILLABAISSE 11.95
A traditional seafood soup originating from the port city of Marseille.
SARDINES 12.95
Grilled sardines with French beans, figs, and cucumber and celery tartar.
FISH & CHIPS 12.95
Breaded cod fillet with oven fries, and tartar sauce.
MUSHROOM RISOTTO 12.95
Creamy mushroom risotto with pine nuts, and parmesan.
DUCK CONFIT PASTA 12.95
Tagliatelle with tender shreds of duck confit in a mildly spiced tomato sauce.
V – with vegan pepperoni.
SEAFOOD PASTA 13.95
Tagliatelle with seafood in a slightly spicy white wine butter sauce.
PIKE BURGER 14.95
Juicy pike cutlet burger with oven french fries.
V – with vegan burger.
HUMBOLDT SQUID TENTACLE 16.95
Flamed Humboldt squid tentacle with mustard roasted potatoes, and vierge salsa.
ARCTIC CHAR 16.95
Arctic char fillet with slightly spicy vegetable sauté, and beurre blanc sauce.
DUCK CONFIT 16.95
Duck confit with red wine-cherry sauce, potato gratin, and caramelized pear.
GOLDEN REDFISH 17.95
Whole golden redfish with baby carrots, cauliflower, and chimichurri sauce.
ATLANTIC HALIBUT 18.95
Atlantic halibut steak with pea puree, and beurre blanc sauce.
OCTOPUS 21.95
Grilled octopus tentacle with pumpkin puree.
AFFOGATO 5.95
Ice cream with espresso, syrupy walnuts and liqueur.
V – vegan ice cream.
TIRAMISU 6.95
Tiramisu with coffee, almond liqueur, and walnuts.
CRÈME BRÛLÉE 6.95
Creme brulee with berries.
A GOURMAND'S DREAM 7.95
Chocolate fondant with ice cream, and berry sauce.
CELESTIAL CHEESES 12.95
Selection of cheeses with cloudberry and fig jam.
Creamy pasta with chicken. 6.50
Homemade dumplings. 6.50
Cheeseburger with oven chips, & tomato-cucumber salad. 6.50
Breaded cod fillet with chips, and tomato-cucumber salad. 6.50
Pancakes (with jam, honey, chocolate, or ice cream). 5.50
Ice cream. 5.50
*V – dishes for vegans and vegetarians.
*ALLERGENS AND INTOLERANCES. IF YOU ARE UNCERTAIN, PLEASE SPEAK TO A MEMBER OF OUR STAFF.
*SPLIT BILLS ARE ONLY POSSIBLE FOR GROUPS OF 8 PEOPLE OR LESS. THANK YOU FOR YOUR UNDERSTANDING!
Restaurant Sardiinid represents modern Estonian cuisine, focusing on fresh, seasonal, high quality, and locally sourced ingredients with Mediterranean, Middle Eastern, and Asian influences. The menu is constantly evolving and changing according to the seasons.
Mondariz Sparkling 33cl/75cl | 2.50/4.50
(Sparkling natural mineral water, ESP)
Mondariz Still 33cl/75cl | 2.50/4.50
(Natural spring water, ESP)
Juices 25cl 2.50
(Plum, Multifruit, Tomato, Orange, Pineapple, Apple)
Juices 25cl 3.00
(Cranberry, Pink Grapefruit, Mango)
Bel Normande Sparkling Juices 75cl 9.00
(Red grape, White grape, Apple)
Tonics & Mixers 20cl 3.00
(Tonic Water, Ginger Ale, Ginger Beer, Mystic Mango, Raspberry & Rhubarb, Salty Grapefruit Lemonade, Red Berry Lemonade)
House Lemonade 30cl 3.50 | 100cl 9.00
Coca Cola / Coca Cola Zero / Sprite / Fanta 25cl 2.50
Ice cream cocktail 6.00
Coffee / Espresso / Americano 2.50
Cappuccino / Caffe Latte 3.50
Hot Cocoa 3.50
Decaffeinated Coffee 3.50
Chai Latte 4.00
Iced Coffee 4.50
Schlürf Organic Teas cup/pot 3.00/5.50
GREETE – Green tea
INGOLF – Black tea with bergamot
FENNA – Berry tea
STINE – Ginger-orange herbal tea
FIETE – Herbal mint tea
KLARA – Herbal tea with chamomile
JANTJE – Green tea with jasmine and raspberries
Bavaria Premium (Draught) 30cl/50cl | 4.00/5.00
Stella Artois 33cl 4.50
Hoegaarden 33cl 5.00
Leffe Blonde 33cl 5.00
Leffe Bruin 33cl 5.00
Guinness Draught 33cl 5.00
Liefmans Kriek-Brut 33cl 7.00
Pilsner Urquell 50cl 5.50
Weihenstephaner 50cl 6.00
Aecht Schlenkerla Rauchbier Märtzen 50cl 6.50
Kämp 33cl 4.50
Purtse 33cl 5.00
Metsik Ida 33cl 5.00
Siidisuka 33cl 5.50
Sweet Stout, EST, Purtse Pruulikoda 6.3%
Bavaria 0%, Lager, NED 33cl 4.00
Leffe Blond 0%, Blonde Ale, BEL 33cl 4.00
Weihenstephaner 0%, Hefe-Weissbier, GER 50cl 
Happy Joe Dry Apple, FIN 0% 27,5cl 3.50
Happy Joe Crispy Pear, FIN 4.7% 27,5cl 4.00
Galipette Rosé, FRA 4.0% 33cl 5.00
Henry Westons Vintage Medium Dry, ENG 6.5% 50cl 6.50
Coquerel Cidre Brut, FRA 4.5% 75cl 11.00
Zubrowka Biala, POL (50cl 35.00) 4.00
Absolut, SWE 4.50
Danzka, DNK 4.50
Nikka Coffey Vodka, JPN 5.50
Chopin Potato Super Premium, POL 5.50
Cachaca 51, BRA 4.50
Jose Cuervo Especial Silver, MEX 4.50
Sierra Antiguo Plata 100% Agave, MEX 5.50
Sierra Antiguo Anejo 100% Agave, MEX 5.50
Tequila Cimarron Reposado 100% Agave, MEX 6.00
Mezcal Meteoro Espadin, MEX 6.50
Bache Gabrielsen Tre Kors (VS), FRA 5.50
Martell VSOP, FRA 6.50
Hennessy VSOP, FRA 7.00
De Luze XO, FRA 9.00
Martell XO Supréme, FRA 16.00
Grand Empereur Brandy XO, FRA 5.00
Janneau VSOP Armagnac, FRA 5.00
Calvados Coquerel VSOP, FRA 5.00
Calvados Coquerel 4 YO Limited Edition, FRA 5.50
Bushmills Original, IRL 4.50
Jameson, IRL 4.50
Jameson Black Barrel, IRL 5.00
Bushmills 10 YO, IRL 5.50
Bulleit Bourbon, USA 5.00
Chivas Regal 12YO Blended Scotch, SCT 5.50
Johnnie Walker Black Label, SCT 5.50
Yellow Rose Rye, USA 5.50
Yellow Rose Outlaw Bourbon, USA 6.50
Nikka From the Barrel, JPN 6.50
Nikka Coffey Grain, JPN 7.50
Glenmorangie 10 YO Original Single Malt, SCT 6.00
Arran Sherry Cask Single Malt Scotch, SCT 6.50
The Glenlivet 15YO French Oak Reserve Single Malt, SCT 7.00
Glenmorangie Quinta Ruban 14 YO Single Malt, SCT 8.00
Kavalan Concertmaster Port Cask Finish, TWN 8.50
Gordon's London Dry, ENG 4.50
Tanqueray London Dry, ENG 5.00
Malfy Gin Originale, ITA 5.00
Malfy Gin Con Limone, ITA 5.00
Malfy Gin Con Arancia, ITA 5.00
Malfy Gin Rosa, ITA 5.00
Portobello Road No. 171, ENG 5.00
Normindia Gin Grapefruit, FRA 5.00
Martin Miller's, ENG 5.50
Tohi Nordic Dry Cloudberry Mist, EST 5.50
Tohi London Dry Ginger & Sichuan Pepper, EST 5.50
Junimperium Rhubarb Edition, EST 6.00
Nikka Coffey, JPN 6.50
Monkey 47 Schwarzwald Dry Gin, GER 7.50
Angostura Reserva, TTO 4.50
Havana Club Cuban Spiced, CUB 4.50
Ron Santiago de Cuba Añejo, CUB 5.00
Angostura Dark 7YO, TTO 5.50
Havana Club Selección de Maestros, CUB 6.00
Angostura 1919 8YO, TTO 6.00
Diplomatico Reserva Exclusiva 12 YO, VEN 6.00
Hell or High Water XO, PAN 6.50
Angostura 1824 12YO, TTO 7.50
Matusalem Gran Reserva 15YO, DOM 6.00
Matusalem Gran Reserva 23 YO, DOM 8.00
Vana Tallinn, EST 4.50
Aperitivo Spritz Luxardo, ITA 4.50
Lillet Blanc, FRA 4.50
Finsbury Blood Orange Gin Aperitif 4.50
Jägermeister, GER 4.50
Rossi D'Asiago Limoncello, ITA 4.50
Amaretto Di Saronno, ITA 4.50
Bailey's Irish Cream, IRL 4.50
Kahlua, MEX 4.50
Pernod, FRA 4.50
Antica Sambuca Classic, ITA 4.50
Seaman´s Shot, GER 4.50
Minttu Peppermint, FIN 4.50
Wenneker Triple Sec, NLD 4.50
Amaro di Angostura, TTO 5.00
Licor 43, ESP 5.00
Fernet Branca, ITA 5.50
Alfred Gratien Brut, FRA 75cl 60.00
Moutard Brut Grande Cuvee, FRA 75cl 60.00
Piper Heidsieck Cuvee Brut, FRA 75cl 70.00
Piper Heidsieck Essentiel Cuvee Reserve, FRA 75cl 75.00
Charles Heidsieck Brut Reserve, FRA 75cl 85.00
Charles Heidsieck Rosé Reserve, FRA 75cl 95.00
Philipponnat Royale Reserve Brut, FRA 150cl 175.00
Mionetto Prosecco Extra Dry, ITA 20cl 7.50
Mionetto Prosecco Rosè Extra Dry, ITA 20cl 7.50
Freixenet Prosecco Extra Dry, ITA 16cl 7.00 75cl 30.00
Freixenet Prosecco Rosè Extra Dry, ITA 16cl 7.00 75cl 30.00
Freixenet Gran Cuvee Brut Cava, ESP 16cl 7.50 75cl 32.00
Freixenet Pinot Noir Rosado Brut Cava, ESP 75cl 34.00
G & M Prestige Brut Crémant, FRA 16cl 7.50 75cl 32.00
G & M Prestige Brut Rosé Crémant, FRA 75cl 34.00
Mionetto Luxury Collection Prosecco Brut, ITA 75cl 36.00
G & M Cuvée Flamme Blanc Brut Crémant, FRA 75cl 38.00
G & M Cuvée Flamme Brut Rosé Crémant, FRA 75cl 38.00
Freixenet Sparkling White 0.0%, ESP 16cl 4.50 75cl 20.00
Freixenet Sparkling Rosè 0.0%, ESP 16cl 4.50 75cl 20.00
50° Riesling Trocken, GER 16cl 6.50 75cl 29.00
Freixenet Pinot Grigio, ITA 16cl 6.50 75cl 29.00
Morgadio da Torre Alvarinho, POR 16cl 7.00 75cl 30.00
Mesa Primo Bianco Vermentino, ITA 16cl 7.00 75cl 30.00
Skywalker Sauvignon Blanc, NZL 16cl 7.00 75cl 30.00
PepperBox Chardonnay, AUS 16cl 7.00 75cl 30.00
Perelada Blanc Pescador, ESP 75cl 30.00
Zabu Grillo, Terre Siciliane, ITA 75cl 30.00
Ramón Bilbao Verdejo, ESP 75cl 32.00
Reyneke Organic Sauvignon Blanc Semillon, RSA 75cl 35.00
Pfaffenheim Black Tie, FRA 75cl 35.00
Allram Strassertaler Grüner Veltliner, AUT 75cl 36.00
Santi Folar, ITA 75cl 36.00
Cantina Toblino Müller Thurgau, ITA 75cl 36.00
Gerard Bertrand Hertiage, FRA 75cl 36.00
Mar de Frades Albariño, ESP 75cl 36.00
Blanc Sec de Suduiraut, FRA 75cl 36.00
Enrico Serafino Gavi di Gavi, ITA 75cl 36.00
Banfi San Angelo Pinot Grigio, ITA 75cl 37.00
G de Château Guiraud, FRA 75cl 39.00
Pfaff Goldert Grand Gru Riesling, FRA 75cl 41.00
Gérard Bertrand Orange Gold Organic, FRA 75cl 42.00
San Marzano EDDA Bianco, ITA 75cl 42.00
M. Chapoutier "Les Meysonniers" Blanc, FRA 75cl 43.00
D. Bahuaud "La Bibliotheque", FRA 75cl 43.00
Cave de la Petite Fontaine Sancerre, FRA 75cl 46.00
Louis Latour Chablis La Chanfleure, FRA 75cl 48.00
Freixenet White 0%, ESP 16cl 4.50 75cl 20.00
Conde Villar Rosé Vinho Verde, POR 16cl 6.50 75cl 29.00
Freixenet Rosado, ESP 16cl 6.50 75cl 29.00
Ramón Bilbao Rosado, ESP 75cl 29.00
Premius Bordeaux Rosé, FRA 75cl 29.00
Ruffino Rosatello, ITA 75cl 30.00
Château De Fesles Rosé D'Anjou, FRA 75cl 30.00
Tramari Rosé di Primitivo Salento, ITA 75cl 34.00
M.Chapoutier Orsuro Côtes de Provence, FRA 75cl 35.00
Chateau Gassier Esprit Rose , FRA 75cl 36.00
Freixenet Chianti, ITA 16cl 6.50 75cl 29.00
PepperBox Shiraz, AUS 16cl 7.00 75cl 30.00
Missetti Negroamaro-Primitivo, ITA 16cl 7.00 75cl 30.00
Torre del Falasco Valpolicella Ripasso, ITA 16cl 7.00 75cl 30.00
Doña Paula Malbec-Cabernet,  ARG 16cl 7.00 75cl 30.00
Zabu Nero d'Avola, ITA 75cl 30.00
Melini Lilium Governo, ITA 75cl 32.00
Freixenet Primitivo, ITA 75cl 32.00
Lo.Ca.Tour Cabernet Sauvignon, California, USA 75cl 34.00
M. Chapoutier Côtes du Rhône Belleruche, FRA 75cl 34.00
L. Latour Domaine De Valmoissine Pinot Noir, FRA 75cl 34.00
Solar Viejo Reserva, ESP 75cl 34.00
Séptima Malbec, ARG 75cl 34.00
Château du Mignon Bio, FRA 75cl 36.00
Quinta de Cidrô Touriga Nacional, POR 75cl 37.00
Enrico Serafino Barbera D'alba, ITA 75cl 37.00
Wente Beyer Ranch Zinfandel,  USA 75cl 38.00
M. Chapoutier "Les Meysonniers" Rouge, FRA 75cl 42.00
Ramón Bilbao Gran Reserva, ESP 75cl 42.00
Banfi Cum Laude, ITA 75cl 42.00
Dourthe Diane de Belgrave, FRA 75cl 44.00
Mascota Unánime Gran Vino Tinto, ARG 75cl 46.00
Feudi di San Marzano 60 Primitivo di Manduria, ITA 75cl 50.00
Enrico Serafino Barolo, ITA 75cl 56.00
Cesari Amarone della Valpolicella Classico, ITA 75cl 57.00
Freixenet Red 0%, ESP 16cl 4.50 75cl 20.00
Belsazar Dry Vermouth, GER 8cl 6.00
Belsazar White Vermouth, GER 8cl 6.00
Belsazar Red Vermouth, GER 8cl 6.00
Ruffino Antica Ricetta Vermouth, ITA 8cl 7.50
Royal Oporto Rose Porto, POR 8cl 6.00
Graham's White Blend No5 Port, POR 8cl 6.00
Graham's Late Bottled Vintage Port, POR 8cl 6.00
Royal Oporto Aged 10YO Tawny, POR 8cl 6.50